December 22, 2021
To Our Valued Shareholders,
2021 has been a year of operational execution on multiple fronts for Cyclo Therapeutics. Notably, we achieved major milestones across our development program with the initiation of our pivotal Phase 3 study in Niemann-Pick Disease Type C1 (NPC) and successful advancement of our Alzheimer's Disease asset. Additionally, as we work to build momentum and evolve to the next phase, we level set as a company and reaffirmed our commitment to patients, updated our corporate branding and website, and actively engaged with clinical and global regulatory agencies, patients, investors, KOLs and more.
Importantly, as we continue to prepare for our next phase of growth and evolution, we have made and will continue to make key hires that bring a high caliber of leadership and expertise. We strengthened our management team over the course of the year with the addition of Gerald F. Cox, MD, PhD, who served as our interim Chief Medical Officer and now serves as a member of our Scientific Advisory Board; Russ Belden, as our Acting Chief Commercial Officer, who brings over 16 years launching products across multiple therapeutic areas; and most recently Lise Lund Kjems, MD, PhD, our Chief Medical Officer, a leading global physician scientist with a proven pharma track record of drug development across multiple therapeutic areas, including chronic indications, oncology, and rare diseases. We have also bolstered the leadership and expertise of our development team with key members, including the recent appointments of Cynthia A. Lemere, PhD, as Senior Advisor for Advancement of Alzheimer's Disease program and Caroline Hastings, MD as Global Principal Investigator for our pivotal Phase 3 study (TransportNPC™) of Trappsol® Cyclo™.
We have made significant progress across our development programs, including the initiation of commercial-scale production of Trappsol® Cyclo™ to supply the global patient community participating in our clinical trials, extension and compassionate use programs. Other key highlights include:
Niemann-Pick Disease Type C1 Development Program

 
Met the primary efficacy endpoint in the Phase 1/2 trial evaluating intravenous Trappsol® Cyclo™ for the treatment of NPC and presented new long-term safety and efficacy data from our ongoing Phase 1 open-label extension study evaluating Trappsol® Cyclo™ for the treatment of NPC. The long-term data provide additional support for the capacity of Trappsol® Cyclo™ to stabilize disease progression with home-based intravenous infusions as well as for a favorable safety profile of more than two years in NPC.

 

Commenced our pivotal Phase 3 TransportNPC™ study evaluating Trappsol® Cyclo™ for the treatment of NPC.

 

Appointed Caroline Hastings, MD as Global Principal Investigator for our TransportNPC™ study.

 

Presented at scientific and patient advocacy events including the 14th International Congress of Inborn Errors of Metabolism (ICIEM), the 2021 NPC Patient and Family Conference Hosted by the Australian NPC Disease Foundation, and WORLDSymposium 2021.

 

Received positive opinion from the Paediatric Committee of the European Medicines Agency on the agreement of a Paediatric Investigation Plan for Trappsol® Cyclo™.

 
Alzheimer's Disease Asset

 
Successfully filed and received clearance of our Investigational New Drug application from the U.S. Food and Drug Administration ("FDA") to proceed with our Phase 2 study of Trappsol® Cyclo™ for the treatment of early Alzheimer's Disease.

 

Appointed preeminent Neuroscientist and World-Renowned Researcher, Cynthia A. Lemere, PhD, as Senior Advisor for Advancement of Alzheimer's Disease Asset.

 
Over the course of the year, we have also bolstered our engagement with the NPC patient community. These advocacy efforts have been spearheaded by Lori McKenna Gorski, Global Head of Patient Advocacy, and remain a priority for us. We continue to be inspired by the resilience of this community and by our potential to provide an approved therapy for those in need.
We have never been more confident in Trappsol® Cyclo™ and its potential to become a meaningful approved therapy for the NPC community, and possibly other patient communities where there is significant unmet need. Our team has worked diligently to validate this important platform technology, which we have successfully demonstrated through the data generated to-date. We are in active discussions to identify additional areas of need where Trappsol® Cyclo™ could be utilized and we look forward to taking more steps toward unlocking its full potential. Based on the data, as well as conversations with regulatory authorities and Key Opinion Leaders, we remain deeply committed to advancing this asset forward.
As is the case with many companies in the biotech industry, as of late, the market has put pressure on our stock price. However, we believe this is not reflective of Cyclo Therapeutics' true value, and management remains steadfast in its belief in the Company, as evidenced by the ongoing insider buying and relentless push for clinical advancement. Additionally, with the $11.7 million raise completed in November, we have strengthened our cash position and provided the Company with the necessary capital to continue executing on our development programs.
As we enter 2022, we remain committed to engaging with the investment, scientific and patient communities by actively participating in meetings and key conferences, as well as growing our network of physicians, and working collaboratively on publications plans. We encourage you to stay up to date with our activities by visiting our website,
cyclotherapeutics.com

, and connecting with us on

Twitter

,

LinkedIn

, and

Facebook

.

 
In closing, 2021 was truly a transformational year for Cyclo Therapeutics but we believe we have only just begun. On behalf of all of us at Cyclo Therapeutics, I would like to thank you for your continued support. We look forward to an exciting 2022, and most importantly, bringing hope to patients and families in the NPC and Alzheimer's Disease global patient communities!
Wishing you and your loved ones a happy, healthy holiday and joyful New Year!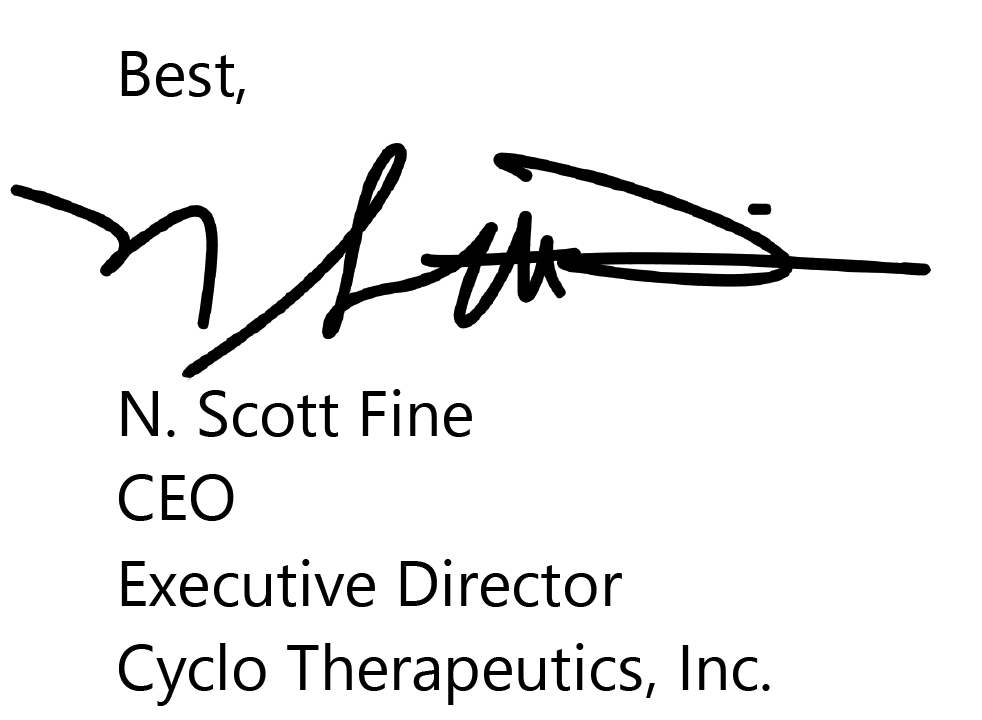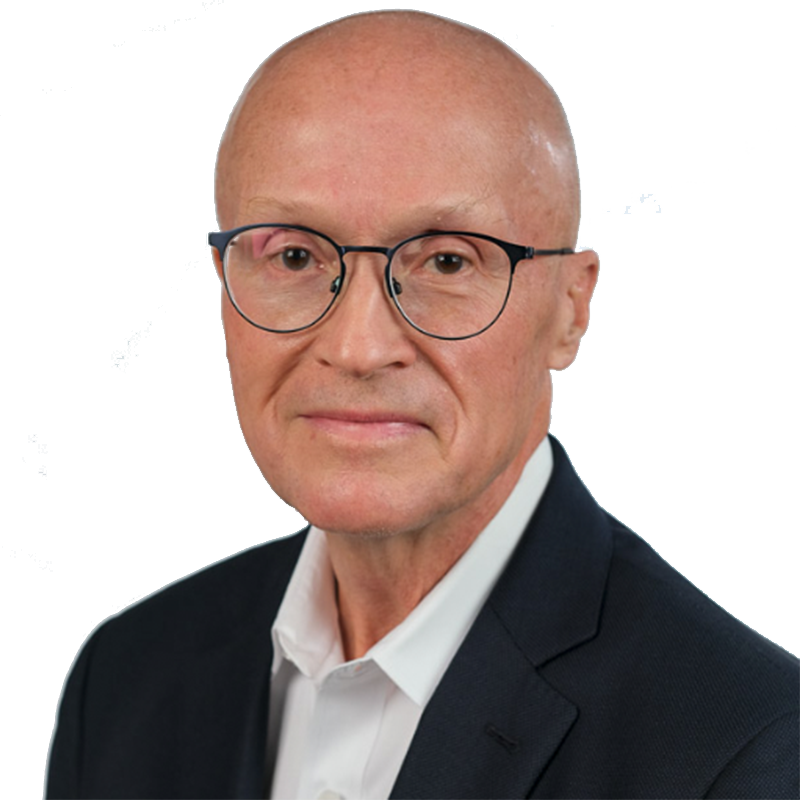 We are dedicated to developing life-changing medicines through science and innovation for patients and families living with challenging diseases.
Providing hope through patient-focused drug development to improve quality of life.
Trappsol® Cyclo™ is not currently approved for any indication.
Third-party websites are provided for convenience only. Cyclo Therapeutics, Inc. does not approve of, or endorse any of the content. Cyclo Therapeutics, Inc. does not maintain, control or monitor the content of third-party websites in any way.